My 2018 Favorites | Music, Content Creators, Skincare, Books etc.
I don't know where to begin with this post. It's surreal to think that the year is almost over when I could have sworn it was just August.
2018 really jumped up on us, didn't it? The Olympics was this year, Beyonce's Coachella performance was this year, Lilly Singh taking a break from Youtube was this year whew feels like a lot has definitely happened in this year alone and with just a few weeks left till the end of the year, I think its only gonna get better! (fingers crossed).
2018 was huge year for the TheOdditty and you wanna know why? It's because we turned one this year blows out candle on birthday cake and reached 5000 followers on Instagram, over 500,000 views on Pinterest, hit 3000 monthly views on the blog and finally created that YouTube Channel. These aren't just numbers to me, big or small. These numbers show me that someone out there is watching me. Someone out there is excited to hear from me and someone out there in some way, shape or form, is learning from my craziness. And for that, I am extremely grateful and honored. I wont lie, I wish I did more this year and I wish I pushed myself but with so many more years to come… I cannot wait for what's next.
With that, I really wanted to open up a bit and share my 2018 favorites with you guys! I get a lot of questions about skincare, music and general life stuff and this seemed like the prefect way to partially, if not fully respond to a few of those!
I hope you enjoy this post and I hope your 2018 was an amazing year.
Cheers to 2019
Love always,
That Odd Girl.
MY 2018 FAVS
Music
Let's get it started with my fav part of having the Spotify App which is their annual SpotifyWrapped Top 100 songs of the year. This is a personalized list of songs I listened to all year that I am totally obsessed with and that was also curated just for me. P.S you know I am Nigerian cause most of those songs are Afrobeats!! Listen and get lost in the rhythm and beats. (adds dancing emoji).
To listen, click here.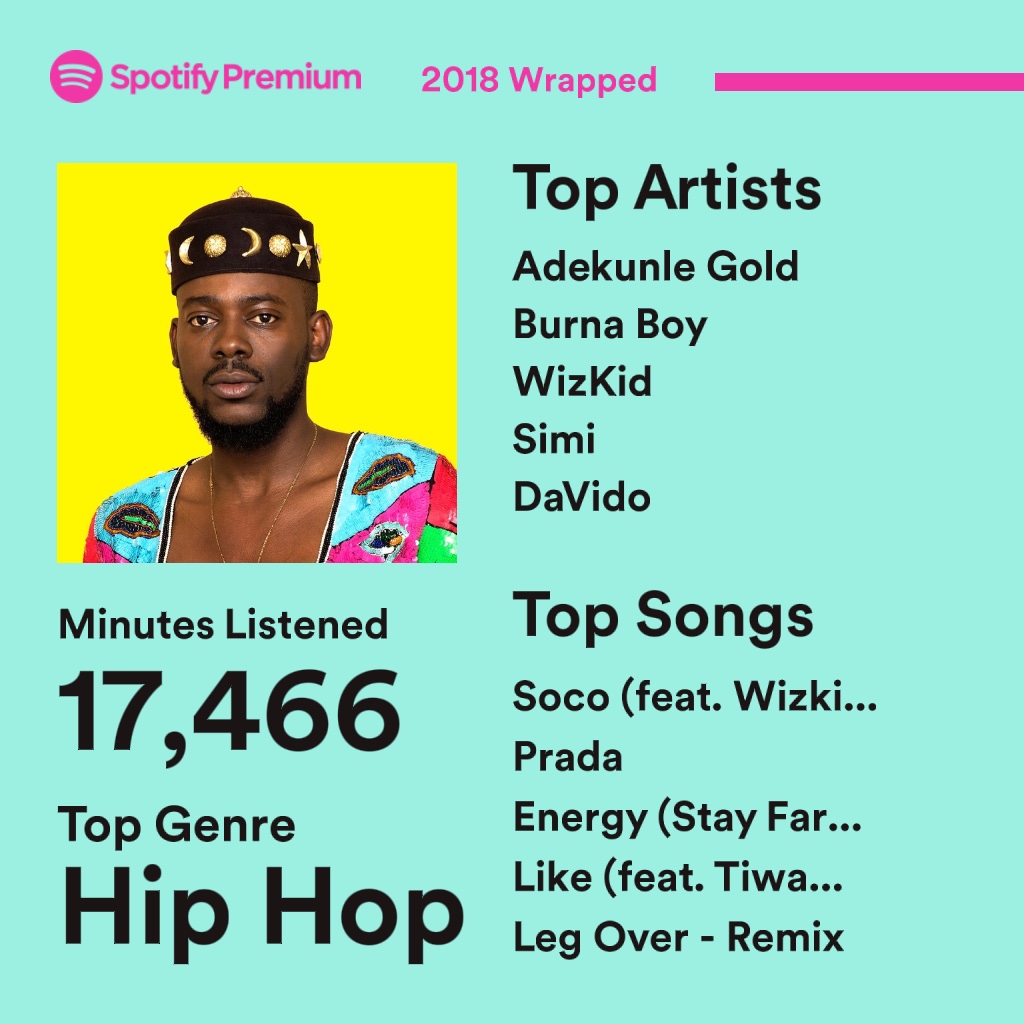 HAIR
Since I cut my hair this year, I thought that I could get away with only a wash during my shower in the mornings and that's it. Boy oh Boy was I totally wrong!! My scalp was so itchy, my hair was always dry and I could not for the life of me get it to lay flat! So I had to get some products and quick! These are just a few of my favorite hair/head care products that saved me… I still need to buy a durag sigh it's been a hassle finding one that doesn't slip off and isn't too tight. If you have any suggestions, please leave me a comment below.
BEAUTY
This year in the beauty department for me remained pretty much the same. I didn't try a lot of new products and kind of stuck to my all-time favs that you'll see below. However, if you have been living under a rock then this might come as a shock to you but Rihanna released a makeup line that immediately trumped a lot of my favs and so you know Fenty had to be included in this list! Here are just a few of my fav beauty must-haves.
SKINCARE
This is by far my most requested upload till date and I just have not gotten up to it yet because I am still wrestling with a few things. But, I still wanted to share a few of my holy grail products for my face and skin that I absolutely love and cannot do without!
BOOKS
I wish I had more time in the year to read more books but sadly, with school… you are stuck with reading academic books yuck! However, I made time to read and re-read in some cases a few books and these four books below made the cut as my all-time favorites from the year!
TV SHOWS
If you know me well you will already know the tv-shows that I am about to list and this particular section was the hardest because I could not choose favorites cause they are all amazing! However, I had to pick a few and these made the cut. Spot any of your favs?
CREATIVES
Now, I really wanted to share my fav creatives of the year because each one of these women in some way, shape or form taught me something over these past few months. Whether it's Amin who continuously pushes for community over competition, or Enkay who is UNAPOLOGETIC in who she is. René and her self-less smile or Ufuoma and her jetsetting ways. These women are such gems and I hope you follow each one of them and show them all the love they deserve!! Thank you for making my 2018 one I would never forget.
Whew, I think thats all I have for you guys! I hope I did not miss anything! If I did, I will be shooting a YouTube video sharing most of these and more if you guys want to hear me talk about how much I love all these people and products!
With that, I wish you a happy holidays again, and cheers one last time to 2018.
DID YOU ENJOY THIS POST? DON'T FORGET TO SHARE THIS WITH YOUR FRIENDS! PLUS, COMMENT BELOW IF YOU HAVE A FAV SIMILAR TO ME!